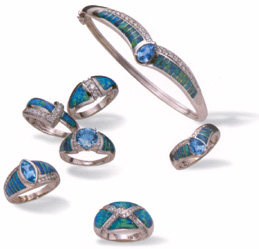 Journeys: Jewelry Boutique, Sterling Horse Jewelry, World Handcrafts, Western Outfits for Modern Ladies & Fashion Jewelry. Located at 1910 Calle de Parian. Open Thurs.-Sun. 12:00-4:00, Appointments welcome.
(575)546-6022.
Julienne Jewelry: Renowned bead artist Julienne, along with many New Mexico artists excite your senses with exquisite jewelry priced from $10-$1,000. Many say they haven't ever experienced so much unique beadwork in one place. Open daily. (575)647-9440. Located on the Plaza.
web page: www.juliennejewelry.com.
La Tienda: Located at 2030 Calle Parian, this shop offers a large selection of Navajo, Zuni, Hopi and Santo Domingo Indian handmade jewelry of the finest quality. It also has many unique souvenirs and collectibles. Visit one of the friendliest shops in town.
Open Daily Mon.-Sat. 10:00-5:00, Sun. 12:00-5:00. (575)524-2513.
Matteo, Jewelry by Design: A gallery of fine handmade silver, gold, and platinum jewelry and gifts from award winning artisans from across the nation. Located inside historic La Posta Restaurant. Open Mondays During the Summer; Tues.-Sun. 11:00-8:00. (575)524-2800. email: matteo@zianet.com
Silver Assets: Authentic Indian and Southwest handmade jewelry and 14K gold jewelry displayed in antique surroundings. Bring home the warmth of the Southwest with Navajo Rugs, Sand Paintings, and Hopi Kachinas. The Dahlstrom family welcomes you, stop by! Located east of San Albino Church on Calle de Santiago. 10:00-5:30 Mon.-Sat.; 12:00-5:30 Sun. (575)523-8747.
email:silverassetsnm@comcast.net.